Learn more about my therapeutic approach, and how I can
Considering Therapy?
help you begin to overcome what's holding you back.
MEET KELSEY SHANE

Is it time to see what a more fulfilling and purposeful life might look like to you?
Today's The Day
Send a message and I'll reach out to schedule an introductory phone call.
YOU TAKE THAT FIRST STEP
Emotional Distress
Traumatic experiences can be life-altering, but they don't have to define us.
Depression
If you start to feel like there's no light at the end of the tunnel, it's time to reach out.
Anxiety
It is possible to gain control over your anxiety. Find out how therapy can help.
Self-Harm
You can break the cycle of self-harm and discover new, healthier ways to cope.
LGBTQ
LGBTQ clients deserve a therapist who 'gets it' and affirms their identity.
Temperament
A Temperament Assessment can help you better understand yourself.
Tattoo Therapy
Thinking about some new ink? Learn more about this unique type of session.
Animal Therapy
Animal Assisted Therapy can be beneficial for clients in a variety of meaningful ways.
Adolescents
Therapy can help adolescents process emotions during a difficult time in life.
Hello, I'm Kelsey Shane
MA, LPC, EMDR
Thanks for checking out my website! I realize that finding a therapist can be a daunting or intimidating task, so I hope to make this as easy and painless as possible for you. I believe that the most important aspect of therapy is the relationship itself—how two people feel sitting in a room together is more important than the methods being used in that room. I work to make my clients feel safe and welcomed by creating a nonjudgmental atmosphere where people can be themselves. And, I promise to bring my own authenticity into the room, too—flaws and all. My therapy sessions generally consist of laughter and a lot of hard work. I find that it helps make therapy less intimidating, and humor is a huge part of who I am (I promised you authenticity, remember?).
Therapy with Kelsey
You may cry, you'll probably laugh, you'll definitely grow!

When you realize that it's time to seek help to improve your mental health, taking the first step can seem like a daunting task. But, going to therapy doesn't have to be a scary experience. Look Inside Counseling provides a warm, supportive, and safe environment for you to work toward turning your life around. It's OK that you don't have all of the answers yet— you just have to be ready to make a change. Contact Kelsey to get started with a free phone consultation.
Kelsey Shane is an expertly qualified and highly recommended therapist.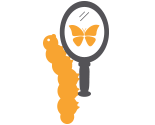 OFFICE LOCATION
50 S. Steele St., Suite 435
Denver, CO, 80209
OPEN HOURS
Mon-Thu: 11:00 – 7:00
Fri-Sun: Closed